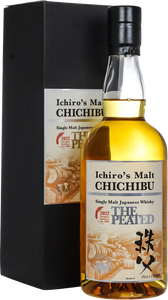 Introducing Ichiro's Malt Chichibu The Peated Single Malt Whisky – a true masterpiece crafted by the renowned Chichibu Distillery under the guidance of master distiller Ichiro Akuto. This exceptional expression is a celebration of both tradition and innovation, a harmonious blend of time-honored craftsmanship and modern expertise.
With each sip, you embark on a sensory journey that begins with a captivating aroma. The nose is rich and complex, unveiling a symphony of smoky notes intertwined with hints of charred oak, maritime influences, and a touch of brine. Layers of peat smoke are delicately balanced, inviting you to explore the depths of its character.
On the palate, the whisky unfolds with remarkable finesse. The peat presence, while robust, remains refined, allowing other flavors to shine through. Waves of creamy vanilla and toffee dance alongside a gentle fruitiness, reminiscent of orchard-fresh apples and citrus zest. As you delve deeper, nuances of dark chocolate and a subtle spiciness emerge, adding depth and intrigue to the experience.
The finish is an exquisite crescendo, lingering gracefully on the palate. The smokiness endures, gradually giving way to a sweet and slightly earthy undertone. This remarkable whisky leaves a lasting impression, a testament to the meticulous craftsmanship that defines Ichiro's Malt Chichibu.
Encased in an elegantly designed bottle, Ichiro's Malt Chichibu The Peated Single Malt Whisky pays homage to its Japanese heritage while embracing a contemporary aesthetic. Whether you're a seasoned whisky enthusiast or a newcomer to the world of fine spirits, this expression invites you to savor the artistry, dedication, and passion that have gone into its creation.
Experience the allure of Ichiro's Malt Chichibu The Peated Single Malt Whisky – a symphony of peat, flavor, and craftsmanship that stands as a testament to the Chichibu Distillery's commitment to excellence. Indulge in a sensory adventure that bridges the gap between tradition and innovation, all within the confines of your glass.