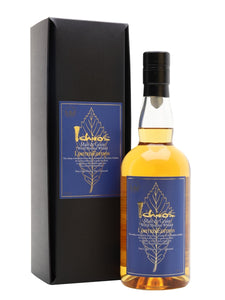 Introducing the exceptional Ichiro's Malt & Grain Limited Edition World Blended Whisky, a true masterpiece that brings together the finest whiskies from around the world. This 750ml bottle is a one-of-a-kind expression that embodies the essence of Japanese craftsmanship and the art of blending.
Ichiro's Malt & Grain is a true testament to the creativity and passion of its creator, Ichiro Akuto. With a meticulous attention to detail and an unwavering commitment to quality, this limited edition whisky is a result of years of experimentation, blending and maturation.
The nose of this whisky is complex and layered, offering a balance of sweet and smoky notes with hints of vanilla, toffee, and dark chocolate. On the palate, it is smooth and full-bodied, with a rich and creamy texture that is punctuated by notes of dried fruit, oak, and spice. The finish is long and satisfying, with a lingering sweetness that is complemented by a subtle smokiness.
This exquisite whisky is crafted using a combination of malt whiskies from Scotland, Canada, the United States, and Japan, as well as grain whiskies from Scotland and Canada. Each component has been carefully selected to ensure that the final blend is harmonious and well-balanced, with a complexity that is truly extraordinary.
Presented in a stunning bottle that is as beautiful as it is functional, Ichiro's Malt & Grain Limited Edition World Blended Whisky is a true collector's item that is sure to impress even the most discerning whisky aficionado. Whether enjoyed neat, on the rocks, or as a base for cocktails, this whisky is sure to delight and inspire.