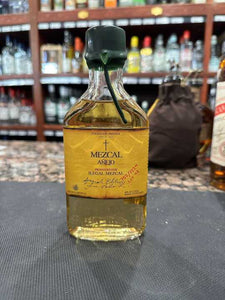 *Lot 46
**Bottle 752/1224
The Ilegal Special Edition Anejo Mezcal in a 200ml bottle is a testament to the artistry and craftsmanship of mezcal production. Ilegal Mezcal is known for its dedication to preserving traditional methods and creating exceptional spirits deeply rooted in Mexican heritage.

This special edition Anejo Mezcal represents the pinnacle of the brand's offerings, showcasing the complexity and depth that comes from aging in oak barrels. As you open the bottle, you're greeted with the distinctive aromas characteristic of mezcal—earthy agave, smoke, and subtle hints of wood from the aging process.

On the palate, the Ilegal Special Edition Anejo reveals layers of flavors—rich caramel, vanilla, and a delightful smokiness from the oak barrels. The aging process lends it a refined smoothness while maintaining the mezcal's unique character, culminating in a sophisticated and memorable drinking experience.

This 200ml bottle of Ilegal Special Edition Anejo Mezcal is a treasure for enthusiasts and newcomers alike, offering a glimpse into the world of aged mezcal and its complexities.

Whether you're exploring different expressions of mezcal or seeking a special addition to your collection, the Ilegal Special Edition Anejo Mezcal in a 200ml bottle promises a captivating journey through its refined and nuanced profile. Savor it slowly to appreciate the craftsmanship and unique flavors of this exceptional spirit. Cheers to the art of mezcal!