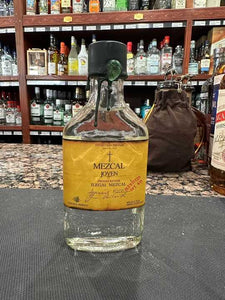 *Lot 60
**Bottle 1634/5520
The Ilegal Special Edition Mezcal Joven in a 200ml bottle is a testament to the dedication and craftsmanship of Ilegal Mezcal. This mezcal is celebrated for honoring traditional methods while innovating to create exceptional spirits deeply rooted in Mexican heritage.

As you open the bottle, you'll encounter the distinctive aromas that characterize mezcal—earthy agave, subtle smoke, and a touch of herbal complexity. The Joven expression, meaning "young" in Spanish, typically combines unaged or lightly aged mezcal, allowing the purity of the agave flavors to shine through.

On the palate, the Ilegal Special Edition Mezcal Joven offers a refined experience with vibrant agave sweetness, complemented by delicate smokiness and hints of herbal and citrus notes. Its smooth and nuanced profile makes it an approachable yet sophisticated choice for both mezcal enthusiasts and newcomers.

This 200ml bottle of Ilegal Special Edition Mezcal Joven is a delightful introduction to the world of mezcal, showcasing the spirit's traditional yet contemporary characteristics.

Whether you're exploring different expressions of mezcal or seeking a unique addition to your collection, the Ilegal Special Edition Mezcal Joven promises an enjoyable experience through its refined and balanced profile. Savor it neat to appreciate the nuances and the authentic taste of this exceptional spirit. Cheers to the artistry of mezcal!