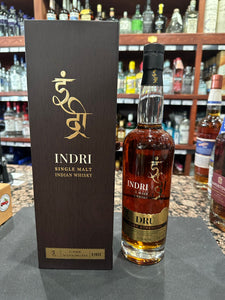 Prepare to embark on a whisky journey like no other with Indri Dru Cask Strength Single Malt Indian Whiskey. This exceptional creation is a testament to the burgeoning Indian whisky scene and its commitment to producing world-class spirits. Indri Dru takes the art of whisky-making to new heights, and their cask strength expression is a true reflection of their dedication to excellence.

Uncork the bottle, and you'll be greeted by an enchanting bouquet of aromas that promise a memorable tasting experience. The scent of aged oak, dried fruits, and a subtle hint of spices is a prelude to the adventure that lies ahead. This whisky was crafted with patience and passion, and it shows in every nuance of its flavor.

Upon your first sip, you'll be transported to the heart of India, where the spirit of Indri Dru comes to life. The cask strength nature of this whisky ensures an intense and complex profile that dances on your taste buds. Rich notes of toffee, dark chocolate, and a touch of citrus unveil themselves, leading to a warm, lingering finish that lingers like a fine memory.

Indri Dru Cask Strength Single Malt Indian Whiskey is more than just a drink; it's an exploration of the fusion of tradition and innovation. The Indian whisky scene is on the rise, and Indri Dru stands at the forefront, pushing the boundaries of what's possible in the world of spirits.

At Folsom Wine & Spirits, we take pride in offering exceptional spirits like Indri Dru. This cask strength single malt Indian whiskey is a true testament to the exciting future of Indian whisky and a must-have for any whisky enthusiast looking for something truly extraordinary. Experience the bold and complex character of Indri Dru, and discover the essence of India in every sip.