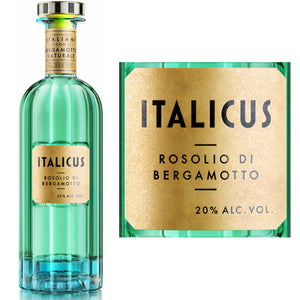 Italy's Calabrian bergamots and Sicilian cedros undergo a cold water infusion to extract their essential oils before being expertly blended with neutral grain spirit sourced from Italy. This results in a spirit boasting the delightful flavors of bergamot and cedro. Separately, a maceration of Roman chamomile from Lazio, lavender, gentian, yellow roses, and melissa balm from Northern Italy is meticulously crafted and blended with the spirit.
The nose of ITALICUS is lightly citrusy with subtle hints of rose and lavender. The palate reveals a crisp and refreshing burst of ripe citrus fruits, perfectly balanced with a delicate blend of floral spices and a touch of bitterness, culminating in a rich and multifaceted finish.
For an exquisite drinking experience, we recommend a 50/50 mix of ITALICUS and Prosecco served over ice. The addition of three green olives imparts a delicate saltiness that perfectly balances the floral aromas.