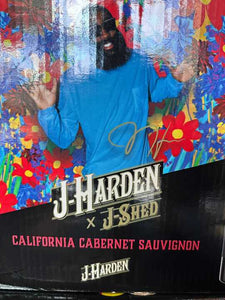 Introducing the J-Harden x J-Shed California Cabernet Sauvignon, a truly remarkable collaboration that brings together the world of sports and winemaking to deliver a wine experience like no other. This exceptional Cabernet Sauvignon is the brainchild of NBA superstar James Harden and the skilled artisans at J-Shed Winery, creating a wine that embodies excellence and sophistication.

This California Cabernet Sauvignon is a testament to the perfect balance of boldness and finesse. With a rich, dark ruby color, it promises an adventure for your senses from the very first pour. As you raise your glass, you'll be greeted by an enticing bouquet of blackcurrant, ripe plum, and subtle notes of vanilla and oak. The wine's full-bodied character carries flavors of dark berries and a hint of spice, all harmoniously intertwined to deliver a memorable tasting experience.

The J-Harden x J-Shed California Cabernet Sauvignon is more than just a wine; it's a celebration of achievement, perseverance, and the thrill of the game. It's a wine that you can proudly serve at special occasions and gatherings, a conversation starter that transcends the boundaries of sports and wine.

With a label bearing the name of James Harden, this wine is a collector's dream and a testament to excellence. It's an ideal gift for wine enthusiasts, basketball fans, or anyone who appreciates the blend of elegance and athleticism.

Don't miss the chance to experience the J-Harden x J-Shed California Cabernet Sauvignon, where the charisma of an NBA superstar meets the craftsmanship of winemaking. Order your bottle today and savor the winning combination of bold California Cabernet and James Harden's winning spirit. Cheers to excellence, both on and off the court!