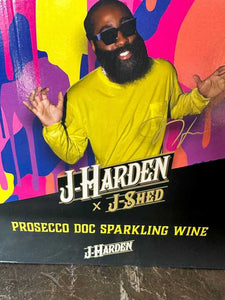 Elevate your celebrations with the J-Harden x J-Shed Prosecco Sparkling Wine 750ml, a partnership that brings together two worlds of excellence. This collaboration between James Harden and J-Shed Winery delivers a sparkling wine that perfectly combines the sophistication of Italian Prosecco with the style and flair of an NBA superstar.

This 750ml bottle of Prosecco is a testament to the fusion of sports and fine wine. With a vibrant and effervescent character, it's the ideal choice for toasting to life's victories, both on and off the court. The J-Harden x J-Shed Prosecco Sparkling Wine embodies the spirit of celebration and success.

Upon your first sip, you'll be greeted by a cascade of delicate bubbles that dance on your palate. It's a harmonious balance of crisp green apple, refreshing citrus, and hints of white peach. This Prosecco sparkles with a light and lively character, making it the perfect companion for all your festive moments.

With its stylish packaging and the endorsement of James Harden, a true basketball legend, this Prosecco is a conversation starter and a statement of sophistication. It's an excellent choice for any gathering or a thoughtful gift for those who appreciate the finer things in life.

Don't miss the chance to experience the J-Harden x J-Shed Prosecco Sparkling Wine, a partnership that delivers excellence in every bottle. Order yours today and indulge in the allure of Italian Prosecco with a touch of NBA stardom. Raise your glass and celebrate success in style.