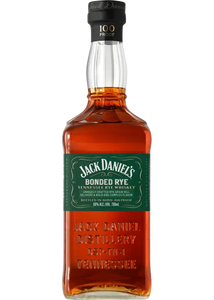 Introducing Jack Daniel's Bonded Rye Whiskey – a testament to the timeless craftsmanship and dedication that defines the Jack Daniel's distillery. Meticulously distilled and aged with precision, this rye whiskey offers a tasting experience that marries tradition with the rigor of bonded production.

Upon uncorking the bottle, a captivating and inviting aroma fills the air. The nose presents notes of warm baking spices, toasted rye, and a touch of vanilla – a sensory prelude to the dynamic tasting journey that awaits. This fragrance captures the essence of Jack Daniel's commitment to quality and the distinctive character of rye.

With your first sip, you embark on a journey through layers of flavor. The palate is graced with the robust textures of rye spice, interwoven with the warmth of caramel and an undercurrent of oak. This well-balanced profile speaks to the harmony between the whiskey's character and the rigorous standards of bonded production.

What distinguishes Jack Daniel's Bonded Rye Whiskey is its adherence to tradition. This whiskey is crafted in accordance with the Bottled in Bond Act of 1897, ensuring that it's made from a single distillation season, aged for at least four years, and bottled at precisely 100 proof.

As the last notes linger on the palate, the finish is both invigorating and satisfying – a testament to the craftsmanship that goes into every drop. Jack Daniel's Bonded Rye Whiskey isn't just a libation; it embodies a legacy of authenticity, a tribute to time-honored distillation, and an invitation to savor a world of flavor and character.

Whether enjoyed neat to fully appreciate its nuances, mixed into classic cocktails, or shared with fellow whiskey enthusiasts, Jack Daniel's Bonded Rye invites you to embrace the spirit of tradition and precision that defines American whiskey-making. Raise your glass to a rye that celebrates the past while toasting to the present.