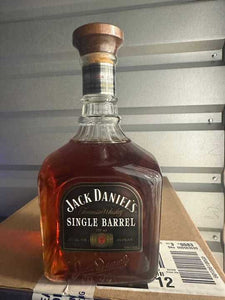 Discover the individuality and robust character of Jack Daniel's Single Barrel 94 Proof American Whiskey, a remarkable expression that stands as a testament to the craftsmanship and tradition of this iconic Tennessee whiskey.

As a single barrel offering, each bottle of Jack Daniel's Single Barrel 94 Proof is sourced from a unique barrel, resulting in a whiskey with its own distinct flavor profile. This 94 Proof variation enhances the boldness and complexity of the spirit, making it a captivating choice for enthusiasts and collectors alike.

Upon pouring a glass, you'll be greeted by the rich amber hue, characteristic of Jack Daniel's maturation process in new, charred oak barrels. The aroma is a delightful blend of caramel, vanilla, and toasted oak, inviting you into a world of Tennessee whiskey craftsmanship. On the palate, you'll savor a harmonious medley of flavors, with notes of sweet corn, maple, and a subtle spice, creating a well-rounded and robust profile. The finish is long and satisfying, leaving you with a warm and memorable impression.

Jack Daniel's Single Barrel 94 Proof is more than just a whiskey; it's a celebration of individuality, quality, and the legacy of Jack Daniel's Tennessee Whiskey.

Whether you're a seasoned whiskey enthusiast or someone eager to explore the world of American spirits, Jack Daniel's Single Barrel 94 Proof is a must-have addition to your collection. Order your 750ml bottle today from Folsom Wine & Spirits and savor the bold and distinctive taste of Jack Daniel's Single Barrel Tennessee Whiskey. Cheers to craftsmanship and character!