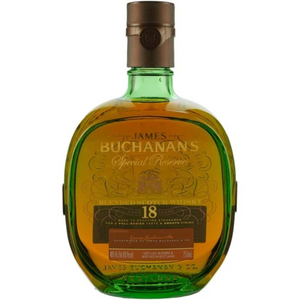 Buchanan's 18, also known as James Buchanan's Special Reserve 18 Year Old Blended Scotch, is a finely crafted whisky that's blended to perfection. It's composed of 15 expertly sourced grain whiskies and single malts, each of which is aged for at least 18 years and then blended together in selected ex-Sherry oak casks. The blend includes distinguished whiskies from notable distilleries, such as Dalwhinnie Distillery in the Highland, which provides Buchanan's 18 with a rich, buttery body and a unique mouthfeel.
Crafted from an undisclosed mash bill, this immensely popular Scotch has been recognized for its exceptional quality. It won double gold at the 2009 San Francisco World Spirits Competition and was crowned Best Blended Scotch Whisky in 2012 at the Ultimate Spirits Challenge.
Buchanan's 18 Special Reserve Blended Scotch is bottled at 40% ABV and offers a delightful sensory experience. It's bursting with aromatic fruits, red plums, and citrus on the nose, while the palate features notes of honey, brewed coffee, and sweet vanilla bean. With its complex and well-balanced flavor profile, Buchanan's 18 is a true masterpiece in the world of Scotch whisky.