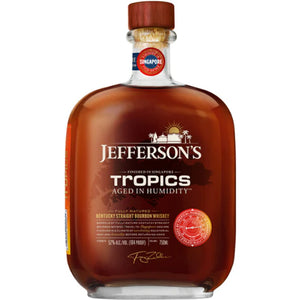 Introducing Jefferson's Tropics Finished in Singapore Kentucky Straight Bourbon Whiskey – a masterful fusion of traditional craftsmanship and exotic inspiration. Crafted with the utmost care and attention, this exceptional bourbon takes you on a journey that transcends borders and stirs the senses.

Distilled in the heart of Kentucky, the birthplace of bourbon, Jefferson's Tropics Finished in Singapore begins its story with a meticulously selected blend of the finest corn, rye, and malted barley. This combination yields a foundation of rich flavors and a smooth, velvety texture that sets the stage for what's to come.

What truly sets this bourbon apart is its unique finishing process. After aging gracefully in charred American oak barrels, this bourbon embarks on a second voyage across the globe to the vibrant city-state of Singapore. Here, in the crossroads of cultures and flavors, it undergoes a special finishing period that imparts an exotic twist to its character.

During this final phase, Jefferson's Tropics encounters the tropical essence of Singapore – its lush botanicals, aromatic spices, and diverse culinary influences. The result is a bourbon that captivates the palate with a symphony of flavors. Notes of warm vanilla and caramel intertwine with hints of exotic fruits, subtle coconut, and a delicate trace of spice. The finish is a harmonious dance between the traditional warmth of Kentucky bourbon and the lively zest of the tropics.

Jefferson's Tropics Finished in Singapore Kentucky Straight Bourbon Whiskey is not just a spirit; it's an experience that celebrates the art of blending tradition with innovation. Whether sipped neat, on the rocks, or as the foundation for an exquisite cocktail, it's sure to transport you to a realm where time-honored craftsmanship meets the allure of distant shores. Elevate your moments with a sip of this exceptional bourbon and embark on a sensory voyage like no other.