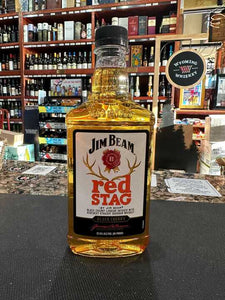 Indulge in the rich, sweet flavors of Jim Beam Red Stag Black Cherry Flavored Kentucky Straight Bourbon Whiskey, a delightful twist on tradition, available exclusively at Folsom Wine & Spirits. This exceptional bourbon whiskey seamlessly combines the classic craftsmanship of Jim Beam with the bold, natural essence of black cherries. It's a contemporary masterpiece that will captivate your palate and introduce you to a world of irresistible flavors.

The Jim Beam Red Stag Black Cherry Bourbon comes in a sleek bottle that reflects the innovative spirit of this variation. As you unseal the bottle, a tantalizing aroma fills the air, immediately captivating your senses with the robust scent of ripe black cherries, hints of vanilla, and a subtle undercurrent of oak. This enticing bouquet is a prelude to the luscious and complex flavors that await your taste buds.

The first sip is a revelation, as the smooth and velvety liquid caresses your palate with a perfect balance of sweet cherries and the mellow warmth of bourbon. It's a symphony of flavors, with notes of dark chocolate and a touch of caramel dancing harmoniously, creating an unforgettable tasting experience.

The finish is long and satisfying, leaving you with a warm, lingering embrace that showcases the depth and character of this flavored bourbon. Jim Beam Red Stag Black Cherry Flavored Kentucky Straight Bourbon Whiskey is not only a delightful deviation from the norm but also a must-have for both seasoned bourbon enthusiasts and those looking to explore the world of flavored spirits.

Elevate your spirits collection with this exceptional whiskey, and toast to the innovation, craftsmanship, and the bold essence of black cherries that Jim Beam Red Stag represents. Secure your bottle today and raise your glass to the world of unparalleled flavor and creativity. Cheers to a contemporary twist on a classic favorite!