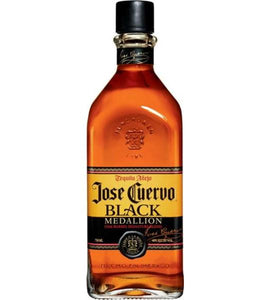 Introducing the Jose Cuervo Black Medallion Oak Barrel Signature Blend Anejo Tequila, a true masterpiece that captures the essence of Mexico's finest agave spirits. This exceptional tequila is meticulously crafted and aged to perfection, bringing forth an unparalleled taste experience that connoisseurs and enthusiasts alike will savor.
At the heart of this extraordinary tequila is the selection of premium agave, carefully harvested at peak ripeness. Handpicked by expert jimadors, only the finest agave plants are chosen to ensure the utmost quality and flavor. The agave piñas are then slowly cooked in traditional brick ovens, unlocking their rich, natural sugars and intricate flavors.
After the cooking process, the extracted juice is meticulously fermented, allowing for the development of distinct character and complexity. Jose Cuervo's proprietary yeast strain adds a unique touch, contributing to the tequila's remarkable taste profile.
The true magic happens during the aging process. This Signature Blend Anejo Tequila is artfully aged in oak barrels, masterfully selected for their unique characteristics. The extended aging period gracefully transforms the tequila, infusing it with the subtle nuances of oak, adding layers of complexity, and achieving a smooth, velvety texture.
With each sip, you'll be greeted by rich notes of caramel, vanilla, and butterscotch, harmoniously balanced with hints of toasted oak and a delicate smokiness. The finish is long and satisfying, leaving behind a warm, lingering sweetness that lingers on the palate.
The Jose Cuervo Black Medallion Oak Barrel Signature Blend Anejo Tequila is presented in an elegant 750ml bottle, showcasing its premium status and inviting you to indulge in its splendor. Whether enjoyed neat, on the rocks, or as the foundation of your favorite tequila-based cocktails, this exceptional spirit promises an unforgettable experience for all who seek the finest in tequila craftsmanship.
Embrace the legacy of Jose Cuervo's 250-year-old tradition, and elevate your tequila journey with the exquisite Black Medallion Oak Barrel Signature Blend Anejo Tequila. Discover the epitome of agave mastery, celebrating the spirit of Mexico with every sip. Salud!