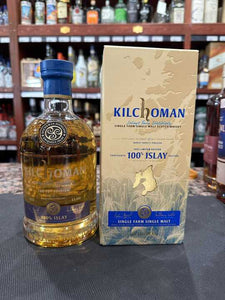 Immerse yourself in the pure essence of Islay with Kilchoman 100 Percent Islay Single Malt Scotch Whisky. This exceptional expression is a tribute to the rugged beauty and traditional craftsmanship of Islay, a region renowned for its distinctive and peaty whiskies.

Kilchoman 100 Percent Islay is a whisky that embodies the spirit of this remote Scottish island. Every aspect of production, from growing the barley to bottling the whisky, takes place on Islay, making it a truly unique and authentic representation of the region's terroir and character.

From the moment you pour a glass, you'll be transported to the windswept shores and peat bogs of Islay. The whisky's pale golden hue is a visual testament to its unadulterated nature. On the nose, you'll be greeted by the signature peat smoke of Islay, complemented by notes of citrus, vanilla, and maritime salt. The palate offers a harmonious blend of flavors, with hints of tropical fruit, creamy toffee, and a gentle spice, all wrapped in a comforting smokiness. The finish is long and satisfying, leaving you with a warm, peaty embrace.

Kilchoman 100 Percent Islay is more than a whisky; it's a journey through the wild and untamed landscapes of Islay. It's perfect for those who appreciate authenticity, craftsmanship, and the distinctive character that makes Islay whiskies so revered.

Whether you're a seasoned whisky connoisseur or someone looking to explore the world of peaty Scotch, Kilchoman 100 Percent Islay is a must-try. It's a celebration of tradition, provenance, and the unwavering commitment to creating an exceptional spirit. Order your bottle today from Folsom Wine & Spirits and immerse yourself in the unique and authentic world of Islay whisky. Slàinte mhath! Cheers to the extraordinary!