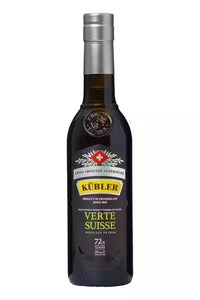 Kubler Absinthe Verte Suisse is a premium-quality absinthe that is produced in the heart of the Val-de-Travers region of Switzerland, which is known as the birthplace of absinthe. This vibrant green spirit is made using only the finest ingredients and traditional techniques, resulting in a complex and full-bodied flavor profile that is beloved by absinthe enthusiasts worldwide.
The aroma of Kubler Absinthe Verte Suisse is dominated by the distinct scent of wormwood, which is complemented by notes of anise, fennel, and other botanicals. On the palate, the absinthe delivers a well-balanced blend of herbal and floral flavors, with a hint of sweetness and a slight bitterness on the finish.
To enjoy Kubler Absinthe Verte Suisse, simply pour a measure of the absinthe into a glass and add a splash of chilled water. As the water is added, the absinthe will louche, turning cloudy and releasing the full spectrum of flavors and aromas. This process is known as the "absinthe ritual" and is a traditional way of enjoying absinthe.
Overall, Kubler Absinthe Verte Suisse is a classic and timeless absinthe that embodies the rich history and heritage of this iconic spirit. Whether enjoyed as a classic aperitif or as a base for creative cocktails, it is sure to delight even the most discerning absinthe connoisseurs.