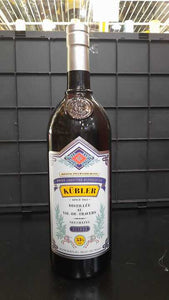 Kubler Suisse Absinthe Liqueur is a premium Swiss spirit that is made using traditional distillation methods and a unique blend of botanicals, including wormwood, anise, and fennel. This premium absinthe is carefully crafted in the Val-de-Travers region of Switzerland, where absinthe has been produced for centuries.
Kubler Suisse Absinthe Liqueur has a smooth and velvety texture, which is perfectly balanced with a refreshing herbal taste. Its distinct flavor profile is often described as having notes of licorice, anise, and a hint of mint, with a slight bitterness from the wormwood.
This versatile liqueur can be enjoyed in a variety of ways. It can be served neat or on the rocks as a refreshing aperitif, or mixed into a wide range of cocktails, including the classic absinthe-based cocktails such as the Sazerac or the Corpse Reviver No. 2. It is also delicious when used as an ingredient in cooking, adding a unique and aromatic flavor to sauces and marinades.
Kubler Suisse Absinthe Liqueur is perfect for anyone who loves the unique and complex taste of absinthe. Its premium quality, balanced flavor, and versatility make it a standout choice among liqueur enthusiasts and casual drinkers alike. The 750ml bottle is perfect for sharing with friends and family or for stocking up your home bar for all your cocktail needs.