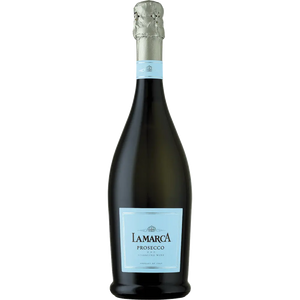 La Marca Prosecco is a delightful and refreshing sparkling wine that captures the essence of Italian winemaking. This wine is crafted in the Veneto region of Italy, using a blend of Glera grapes that are carefully selected for their quality and flavor.
This Prosecco boasts a pale, straw-yellow color, with a fine and persistent perlage that enhances its natural beauty. On the nose, it showcases a delicate bouquet of floral notes, complemented by hints of ripe fruit, such as green apple and citrus, creating a harmonious and complex aroma.
On the palate, this sparkling wine is crisp and refreshing, with a lively acidity that balances its sweetness. It offers a symphony of flavors, including green apple, pear, and a hint of honey, creating a delightful and harmonious taste experience. The finish is clean and refreshing, with a pleasant aftertaste that lingers on the palate.
Overall, La Marca Prosecco is a wine that exudes charm and elegance, making it the perfect choice for any occasion. Whether you are celebrating a special milestone, enjoying a relaxing evening with friends, or simply indulging in a moment of pleasure, this sparkling wine is sure to delight. La Marca Prosecco is a true masterpiece of Italian winemaking, and it is a must-try for anyone who appreciates the finer things in life.