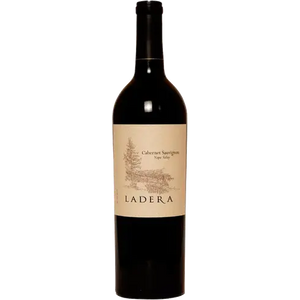 Ladera Cabernet Sauvignon is a premium wine that exemplifies the exceptional quality of Napa Valley's mountain-grown grapes. Sourced from Ladera's own estate vineyards, located in the Howell Mountain region, this wine is meticulously crafted by Ladera's skilled winemakers.
This Cabernet Sauvignon has a deep, dark color and an enticing aroma that combines notes of black cherry, cassis, and espresso, with hints of vanilla and cedar. On the palate, it is full-bodied and rich, with flavors of ripe blackberry, dark chocolate, and tobacco, supported by firm tannins and a balanced acidity. The wine has a long, complex finish that lingers with flavors of dark fruit and spice.
Ladera Cabernet Sauvignon pairs well with a variety of dishes, including grilled meats, roasted vegetables, and aged cheeses. It is also an excellent wine to enjoy on its own, with friends and family, or as an after-dinner treat. This wine should be served at room temperature and can be enjoyed immediately or aged for several years to allow the flavors to develop and deepen even further.