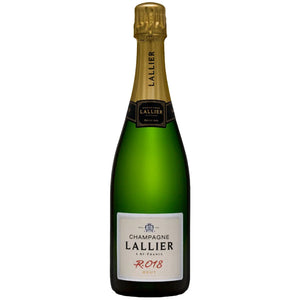 Lallier R.018 Brut Champagne is a premium sparkling wine from the Champagne region of France. This champagne is made using a blend of Chardonnay and Pinot Noir grapes grown in the Montagne de Reims and Cote des Blancs regions, which are known for producing high-quality Champagne.
The champagne has a pale golden color and offers a bouquet of aromas that include ripe fruit, toasted bread, and a hint of vanilla. On the palate, the wine is full-bodied and creamy, with a perfect balance of acidity and flavors of citrus, apple, and pear, along with subtle notes of brioche and almond.
Lallier R.018 Brut Champagne is a well-rounded champagne with a long, elegant finish, making it a perfect accompaniment to a wide range of dishes, from seafood and sushi to roasted poultry and creamy pasta dishes. It is also an excellent champagne to enjoy on its own, as a sophisticated aperitif.
Overall, Lallier R.018 Brut Champagne is a luxurious and refined champagne that is perfect for any special occasion or celebration. Its complexity, elegance, and smoothness make it a favorite among champagne enthusiasts and connoisseurs alike.