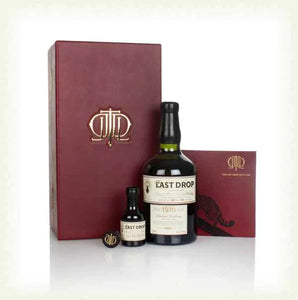 *Include 1 x 750ml and 1 x 50ml
Introducing the unparalleled masterpiece of whisky craftsmanship: the 1970 Last Drop Glenrothes Cask #10586 Single Malt Scotch Whisky. This exceptional offering stands as a testament to time, artistry, and the meticulous care that has gone into every drop over more than half a century.

Nestled within the heart of this exquisite elixir is the essence of a bygone era, captured in the amber depths of its liquid gold. Distilled in the storied year of 1970, this Glenrothes expression embodies the very spirit of time's passage, encapsulating the wisdom and character that only decades of aging can bestow.

With Cask #10586, the art of maturation reaches new heights. The whisky has slumbered gracefully in its oak sanctuary, absorbing the rich nuances of the wood while harmonizing with the Highland air. As the years unfolded, the flavors and aromas developed and deepened, resulting in a symphony of tastes that dance upon the palate.

Upon the first sip, the senses are greeted by an orchestra of notes that weave a tapestry of delight. Aromas of honeyed fruits, decadent toffee, and a hint of spice rise to greet the nose, inviting exploration. The initial taste reveals a sublime fusion of orchard fruits, velvety caramel, and whispers of vanilla, all elegantly balanced by a gentle undercurrent of oak. The finish, like the final movement of a grand composition, is long-lasting and satisfying, leaving behind traces of dried fruits and a subtle warmth that lingers.

The 1970 Last Drop Glenrothes Cask #10586 Single Malt Scotch Whisky is more than a libation; it's a living testament to the dedication, passion, and artistry of those who crafted it and the time that has shaped it. Encased in a meticulously designed vessel, every aspect of this whisky exudes luxury, making it a collector's dream and a connoisseur's delight.

Indulge in the rare and embrace the legacy of this extraordinary whisky, for it embodies not only the essence of Glenrothes but also the essence of a moment that has been captured, preserved, and now shared with discerning enthusiasts.