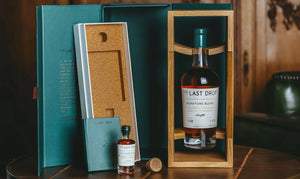 *Include 1 x 700ml and 1 x 50ml
Introducing the Last Drop Signature Blend Kentucky Straight Blended Whiskey in a 700ml masterpiece. Crafted with exceptional care and precision, this blend stands as a testament to the art of whiskey making.

This blend is a harmonious union of meticulously selected Kentucky Straight Bourbons, each contributing its unique character. The result is a symphony of flavors that dance across the palate. Rich caramel, vanilla, and toasted oak notes intertwine with a subtle hint of spice, creating a profile that's both inviting and sophisticated.

As you raise the glass, enchanting aromas come forth. The fragrance of aged oak greets the senses, followed by a welcoming embrace of caramelized sugars. Hints of orchard fruits and a touch of toasted almonds add layers of complexity, promising a sensory journey like no other.

Upon tasting, the palate is met with a velvety texture that unveils a spectrum of tastes. Waves of sweet toffee and honey lead the way, accompanied by a medley of fruits that burst forth with each sip. The interplay of flavors reveals a well-balanced blend where no element overshadows another, ensuring a truly enjoyable tasting experience.

The Last Drop Signature Blend Kentucky Straight Blended Whiskey culminates in a finish that's both satisfying and enduring. The flavors slowly fade, leaving behind traces of vanilla and a gentle warmth that lingers. The finish serves as a reminder of the craftsmanship that has gone into each drop, inviting you to savor the moment.

Presented in a 700ml bottle, the Last Drop Signature Blend is more than a whiskey; it's a testament to the dedication of those who seek perfection in every aspect. Whether you're an enthusiast or a connoisseur, this blend offers an experience that embodies the essence of fine craftsmanship and the timeless allure of whiskey culture. Indulge in elegance with every sip of the Last Drop Signature Blend.