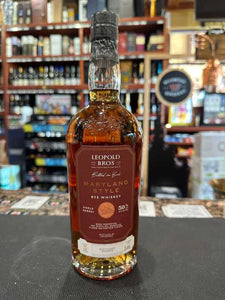 Experience the very essence of rye whiskey with Leopold Bros Single Barrel 100 Proof Maryland Rye, an exquisite spirit that exemplifies the craft of distilling at its finest. Available exclusively at Folsom Wine & Spirits, this single barrel offering is a testament to the dedication and precision that the Leopold Bros distillery puts into every drop of their exceptional whiskey. It's an opportunity to explore the nuanced world of rye in all its glory.

The presentation of the Leopold Bros Single Barrel Maryland Rye is an instant indication of the exceptional quality contained within. It comes in a meticulously designed bottle that exudes an air of sophistication, setting the stage for what's to come. This 100 proof single barrel rye whiskey is more than just a spirit; it's a celebration of craftsmanship and tradition.

As you unseal the bottle, an enticing aroma fills the room. The nose is greeted with the inviting scents of spicy rye grains, hints of vanilla, and a subtle undertone of toasted oak. The Leopold Bros Single Barrel Maryland Rye offers a masterclass in balance and complexity, thanks to the meticulous aging and distillation process. The first sip is a revelation, as the 100 proof whiskey delivers a full-bodied, robust character that envelopes your palate.

Flavors of dark chocolate, honey, and a touch of black pepper dance on your taste buds, creating a symphony of tastes that lingers long after each sip. This is a rye that demands your full attention, a testament to the mastery of the distillers who have created it.

The finish is long and satisfying, leaving you with a warm, lingering embrace that showcases the depth and character of this single barrel rye. The Leopold Bros Single Barrel 100 Proof Maryland Rye is an essential addition to the collection of any true whiskey enthusiast. This limited release offers a unique opportunity to own a piece of the Leopold Bros legacy.

Elevate your whiskey collection with this exceptional spirit and savor the dedication, precision, and heritage that define Leopold Bros. Secure your bottle today, and raise your glass to the nuanced and sophisticated world of rye whiskey. Cheers to the art of craft distilling and to the tradition of Maryland rye.