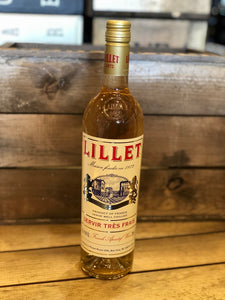 Introducing Lillet Dark Aromatized Aperitif Wine, a captivating and sophisticated blend that embodies the essence of French artistry and savoir-faire. Crafted with meticulous attention to detail, this unique aperitif wine showcases the perfect harmony of carefully selected wines and expertly infused botanicals.
Lillet Dark is created from a blend of fine wines, predominantly Bordeaux wines, carefully chosen for their depth and character. These wines form the base of this exceptional aperitif, providing a solid foundation for the infusion of aromatic herbs and fruits.
The botanicals used in Lillet Dark are meticulously selected to create a symphony of flavors and aromas. The exact composition is a closely guarded secret, but the infusion includes a delicate blend of bitter oranges and other citrus fruits, complemented by the subtle notes of quinine and various spices.
The result is a captivating and complex flavor profile. Lillet Dark delights the senses with its deep amber color and inviting aroma of orange peel, honeyed spices, and hints of vanilla. On the palate, it unfolds with a perfect balance of sweetness and bitterness, showcasing flavors of ripe oranges, dried fruits, and a gentle herbal complexity. The wine's silky texture and well-integrated botanicals create a harmonious and lingering finish that leaves a memorable impression.
Lillet Dark is best enjoyed chilled and served on its own as an aperitif, allowing its unique flavors to shine. It can also be used as a versatile ingredient in a variety of cocktails, adding depth and complexity to classic recipes or inspiring new mixology creations.
With every sip of Lillet Dark Aromatized Aperitif Wine, you embark on a journey through the world of French craftsmanship and refined taste. It is a testament to the artistry and dedication of the Lillet distillers, inviting you to savor the elegance and sophistication of this exceptional aperitif wine.