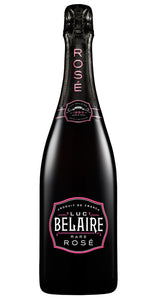 Luc Belaire Rare Rose is a beautiful and elegant sparkling wine that captures the essence of luxury and refinement. This wine is produced in the heart of Burgundy, France, using a blend of hand-picked Grenache, Cinsault, and Syrah grapes, which are carefully selected for their unique flavor and aroma profiles.
The Luc Belaire Rare Rose has a beautiful salmon-pink color, with a fine and persistent mousse that enhances its natural beauty. On the nose, it boasts an intense bouquet of fresh strawberries, raspberries, and delicate floral notes, with hints of citrus and a touch of spice, creating a truly exquisite aroma.
On the palate, this sparkling wine is dry and crisp, with a creamy texture that envelops the mouth in a symphony of flavors, including red berries, stone fruits, and a hint of vanilla. The finish is long and refreshing, leaving a pleasant, lingering aftertaste that lingers on the palate.
Overall, Luc Belaire Rare Rose is a wine that exudes luxury and elegance, making it the perfect choice for any special occasion or intimate celebration. This sparkling wine is a true masterpiece of French winemaking, and it is sure to impress even the most discerning wine connoisseur. Whether you are enjoying a romantic dinner, celebrating a milestone, or simply indulging in a moment of pure pleasure, Luc Belaire Rare Rose is the perfect wine to elevate any moment.