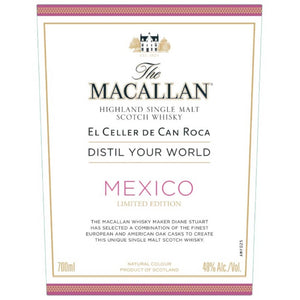 Introducing the Macallan Limited Mexico Edition El Celler De Can Roca Highland Single Malt Scotch Whisky, an extraordinary expression of The Macallan's commitment to excellence and innovation. This exclusive release, available only at Folsom Wine & Spirits, pays tribute to the esteemed El Celler De Can Roca restaurant in Girona, Spain, and its unwavering dedication to the culinary arts.

The Macallan Limited Mexico Edition is presented in a bottle that reflects the brand's heritage and the esteemed collaboration with El Celler De Can Roca. As you unseal the bottle, an enticing aroma fills the air, captivating your senses with notes of rich sherry, dark chocolate, and a subtle touch of orange zest. This aromatic bouquet is just a glimpse of the complexity and depth that awaits.

The first sip is a journey of the senses, as the full-bodied, velvety liquid graces your palate with unparalleled grace. You'll encounter a symphony of flavors, from the opulent sweetness of dried fruits and raisins to the sophisticated hints of cinnamon, nutmeg, and a gentle touch of citrus. This single malt is not just a whisky; it's a culinary masterpiece, a testament to The Macallan's craftsmanship and the culinary excellence of El Celler De Can Roca.

The finish is long and satisfying, leaving you with a warm, lingering embrace that beautifully showcases the depth and character of this limited-edition whisky. The Macallan Limited Mexico Edition El Celler De Can Roca Highland Single Malt Scotch Whisky is a must-have for those who appreciate the art of whisky-making and the culinary world. It offers a unique opportunity to own a piece of The Macallan's legacy and the collaboration with a world-renowned restaurant.

Elevate your spirits collection with this exceptional single malt, and raise your glass to the craftsmanship, precision, and innovation that define The Macallan and El Celler De Can Roca. Secure your bottle today and toast to the depth of character and the promise of unforgettable moments. Cheers to a world of unparalleled flavor and culinary artistry!