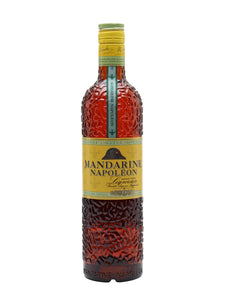 Mandarine Napoleon Liqueur is a premium orange liqueur that is made using a secret recipe of mandarin peels, spices, and cognac. It is a premium Belgian liqueur that has been produced since 1892 and is renowned for its unique and complex flavor profile.
The liqueur has a beautiful orange color and a complex aroma that is both sweet and spicy. It has a rich, velvety texture that coats the palate, and a bold, full-bodied flavor that is both sweet and tangy. The liqueur is aged in oak barrels, which imparts a subtle woody flavor that enhances the complexity of the liqueur.
Mandarine Napoleon Liqueur is perfect for sipping neat, over ice, or as a base for cocktails. It is a versatile liqueur that can be used in a wide range of cocktails, from classic drinks like the Margarita or the Sidecar, to modern creations like the Mandarin Sour or the Mandarin Fizz.
The liqueur comes in an elegant and distinctive bottle that reflects the premium quality of the liqueur inside. Mandarine Napoleon Liqueur is a must-try for anyone who appreciates the finer things in life and is looking for a unique and complex orange liqueur.