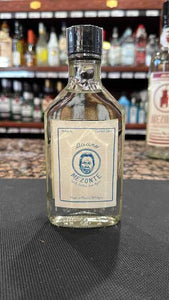 Introducing Mezonte Tepe Aciano Mezcal, a gem in the world of artisanal spirits, now available at Folsom Wine & Spirits. This exquisite mezcal is a testament to the timeless traditions of Oaxacan craftsmanship and the remarkable journey of agave transformation. With each bottle, you embark on a sensory adventure that captures the heart and soul of Mexico's mezcal culture.

Mezonte Tepe Aciano is a celebration of purity and authenticity. Crafted from the wild-harvested Aciano agave, which thrives in the rugged landscapes of Oaxaca, this mezcal encapsulates the essence of its terroir. The agaves are nurtured to maturity, carefully selected, and roasted in traditional earthen pits, infusing them with smoky, earthy notes that are the hallmark of a genuine mezcal.

As you raise the glass to your lips, you'll be enveloped by a mesmerizing bouquet. The aroma of roasted agave, hints of warm spice, and subtle floral undertones create an irresistible olfactory experience. Mezonte Tepe Aciano beckons you to explore its complexity, inviting your senses to dive deeper into its rich tapestry of scents.

The palate is where Mezonte Tepe Aciano truly shines. The initial sip reveals the depth of its character, offering a symphony of flavors that dance across your tongue. The smoky, earthy foundation is complemented by a medley of herbal and citrus notes, adding vibrancy and balance to every sip. The mouthfeel is velvety, coating your palate in a luxurious embrace that lingers, enticing you to savor each moment.

The finish is a harmonious crescendo, leaving a lasting impression. The smoky essence gradually mellows, making way for a gentle warmth that caresses your palate. Mezonte Tepe Aciano's finish is a reminder of the ancient traditions and skilled craftsmanship that have given birth to this remarkable spirit. It's an invitation to slow down, savor the moment, and appreciate the artistry that resides within each bottle.

Elevate your spirits collection with Mezonte Tepe Aciano Mezcal, a true expression of Mexico's mezcal heritage. Whether you're a seasoned mezcal connoisseur or embarking on your first mezcal journey, this exceptional spirit promises an unforgettable adventure in every drop. Embrace the authenticity, tradition, and soul of Mezonte Tepe Aciano, now available at Folsom Wine & Spirits, and let your senses embark on a voyage through the heart of Oaxaca's mezcal culture.