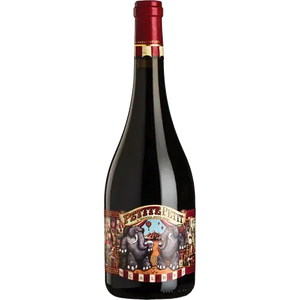 Michael David Petite Petit Syrah is a bold and flavorful wine that boasts a rich and intense profile. This wine is made from a blend of Petite Sirah and Petit Verdot grapes, which are grown in the sun-drenched vineyards of Lodi, California. The warm climate and fertile soil of this region produce grapes with exceptional flavor and depth, resulting in a wine of unparalleled quality.
The wine is characterized by its deep, inky color and complex aromas of dark berries, chocolate, and black pepper. On the palate, it is full-bodied and rich, with bold flavors of blackberry, plum, and espresso. The wine is well-structured, with firm tannins that provide a satisfying balance to the fruit.
Michael David Petite Petit Syrah is a wine that pairs perfectly with hearty dishes such as grilled meats, stews, and roasted vegetables. Its robust flavors and complexity make it an excellent choice for special occasions and celebrations.
The label of Michael David Petite Petit Syrah is also noteworthy, featuring a playful elephant wearing a top hat. This whimsical design adds a touch of fun and lightheartedness to the overall experience.
Overall, Michael David Petite Petit Syrah is a wine that is sure to impress with its bold flavors, rich complexity, and elegant presentation. It is a must-try for any wine enthusiast looking for a high-quality, full-bodied red.