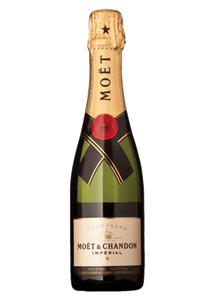 Moet & Chandon Brut Imperial Champagne is a world-renowned sparkling wine that embodies the classic characteristics of Champagne-making. The brand's signature expression is crafted using a blend of three grape varietals - Pinot Noir, Pinot Meunier, and Chardonnay - sourced from the finest vineyards in the Champagne region of France.
On the nose, the Champagne exhibits aromas of green apple, citrus, and white flowers, with hints of brioche and toasted nuts. On the palate, the wine has a crisp and refreshing texture, with flavors of lemon, pear, and a hint of minerality. The finish is clean and vibrant, with a lingering taste of fresh fruit and a hint of creaminess.
Moet & Chandon Brut Imperial Champagne is a perfect accompaniment to any celebration, from weddings to birthdays to holiday parties. Its delicate balance of flavors and aromas make it a versatile wine that pairs well with a variety of dishes, from seafood to poultry to cheese. It can be enjoyed on its own as an aperitif, or as a delightful complement to any meal.
The 375ml bottle size is perfect for a smaller gathering or as a gift for a Champagne enthusiast. Overall, Moet & Chandon Brut Imperial Champagne is a classic expression of the art of Champagne-making, and a must-try for anyone looking to experience the best that French sparkling wine has to offer.