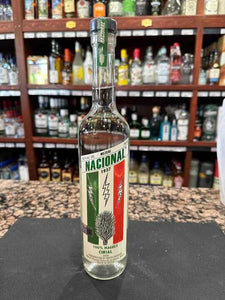 Embark on an extraordinary journey through the heart of Mexican culture with Nacional 1937 Maguey Cirial Mezcal. This exceptional spirit is a testament to the profound connection between tradition, heritage, and the agave plant, deeply rooted in the rich tapestry of Mexican history. Nacional 1937 Maguey Cirial Mezcal is more than just a beverage; it's an experience that pays homage to centuries-old techniques passed down through generations.

Made from the revered agave Cirial, this mezcal tells a unique story of the land where it is born. Grown in the sun-soaked fields of Mexico, the agave Cirial is harvested by local maestros mezcaleros, who skillfully preserve the spirit's authenticity. The traditional process of slow-roasting the agave hearts in earthen pits imparts a smoky essence that captures the rugged terrains where they thrive. Each plant is carefully selected, ensuring only the finest quality makes it into every bottle.

Nacional 1937 Maguey Cirial Mezcal graces your glass with a golden hue, a visual testament to the care and craftsmanship invested in its creation. On the nose, you'll encounter a medley of aromas, from earthy agave and smoky notes to hints of roasted fruit. It's a sensory journey that transports you to the heart of Mexico's mezcal culture, where ancient techniques meet innovation.

The palate is a revelation of complexity, a harmonious array of flavors. Nacional 1937 Maguey Cirial Mezcal offers a beautifully balanced combination of sweet, fruity agave and the subtle earthiness and smokiness that define the mezcal's character. Each sip unveils a tapestry of tastes that reflect the artistry and heritage of its creators. The finish is long and satisfying, leaving a warm memory of roasted agave and the unique terroir.

At Folsom Wine & Spirits, we are honored to offer Nacional 1937 Maguey Cirial Mezcal to our esteemed customers. This exceptional mezcal is a limited release, making it a precious addition to your collection or a thoughtful gift for a fellow enthusiast. Secure your bottle today and savor the legacy, culture, and essence of Mexico, one sip at a time. It's not just mezcal; it's a journey through time and tradition, a toast to Mexico's rich heritage and its finest spirits.