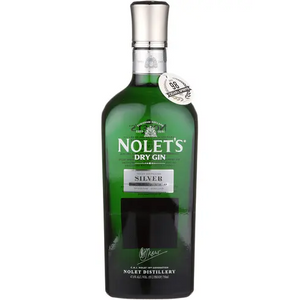 Nolet's Silver Dry Gin is a premium gin that is handcrafted in small batches using a unique blend of botanicals, including Turkish rose, peach, and raspberry. The gin is named after the Nolet family, who have been distilling premium spirits in Holland for over 300 years.
On the nose, Nolet's Silver Dry Gin offers a delicate floral aroma, with hints of fruit and spice. On the palate, it is smooth and silky, with a subtle sweetness that gives way to a clean and refreshing finish. The botanicals used in this gin are carefully selected to create a harmonious and balanced flavor profile, making it a versatile choice for cocktails or for sipping neat.
Nolet's Silver Dry Gin is presented in an elegant bottle that is a work of art in itself. The design is inspired by the beauty of the silver birch tree, and the bottle is finished with a silver foil that adds a touch of luxury to any bar. This premium gin is a must-try for anyone looking for a unique and sophisticated spirit that is both elegant and delicious.