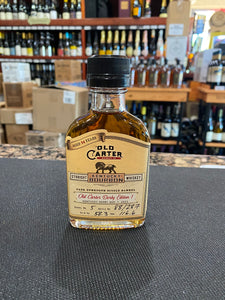 58.3 116.6 PROOF
Behold the extraordinary Old Carter 14 Year Old Derby Edition No. 1, a masterful creation that embodies the pinnacle of whiskey craftsmanship. This remarkable expression is meticulously aged for 14 years, allowing it to develop unparalleled depth and complexity. With each sip, you will be transported to a realm of refined elegance and refined taste.
The Old Carter 14 Year Old Derby Edition No. 1 exudes a symphony of flavors that dance on the palate. Delicate notes of rich caramel intertwine with hints of velvety vanilla, creating a harmonious balance that is simply enchanting. As the whiskey caresses your senses, subtle whispers of oak and spice emerge, adding layers of depth and intrigue.
Crafted with the utmost care and precision, this limited edition release pays homage to the time-honored traditions of the Kentucky Derby. The presentation is a true testament to artistry, with its elegantly designed bottle and meticulous attention to detail.
Indulge in the Old Carter 14 Year Old Derby Edition No. 1, and experience the legacy of generations distilled into a single, extraordinary whiskey. Whether enjoyed as a cherished addition to your collection or shared as a gift, this exceptional expression is sure to captivate the hearts of whiskey connoisseurs and enthusiasts alike. Elevate your senses and immerse yourself in the unrivaled splendor of this remarkable whiskey.