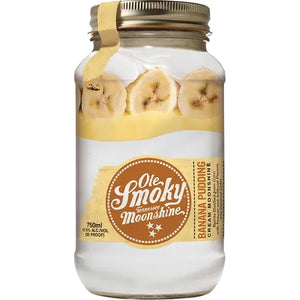 Indulge in the delectable charm of Ole Smoky Banana Pudding Cream Moonshine, a captivating creation that marries the comfort of Southern desserts with the innovation of craft distillation. This moonshine invites you to savor the essence of banana pudding in a way that's both nostalgic and refreshingly modern.

In the glass, the moonshine gleams with a creamy, inviting hue, reminiscent of the luscious banana pudding it draws inspiration from. The aroma evokes memories of homemade treats, combining the sweetness of ripe bananas with the cozy comfort of vanilla and hints of caramel.

From the first sip, you're greeted with the unmistakable flavor of banana pudding – velvety banana notes blending seamlessly with the indulgent creaminess. As the moonshine unfolds on your palate, subtle undertones of vanilla wafers and a touch of caramel weave a tapestry of flavors that's both rich and delightful.

The finish is a harmonious crescendo, leaving behind a satisfying aftertaste that captures the essence of a well-crafted dessert. Ole Smoky Banana Pudding Cream Moonshine isn't just a drink – it's a celebration of Southern culinary tradition, innovation, and the art of distillation.

Whether sipped neat, mixed into creative cocktails, or used as an inventive twist in desserts, Ole Smoky Banana Pudding Cream Moonshine offers a new dimension of flavor. It's a tribute to the flavors of the South, an invitation to savor every moment, and a testament to the magic that happens when tradition meets imagination.