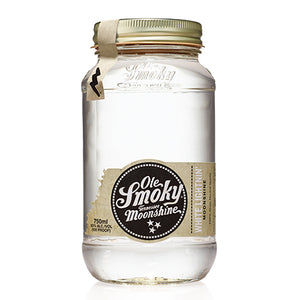 Unleash the raw, unbridled spirit of the South with Ole Smoky White Lightnin Moonshine, a true testament to the roots of craft distillation and the boldness of tradition. This moonshine encapsulates the essence of Appalachian heritage, inviting you to taste the history and character that define this legendary spirit.

In the glass, the moonshine gleams with a crystal-clear purity that mirrors the clarity of moonlight. The aroma is a captivating blend of corn sweetness and a touch of fire, a reminder of the untamed energy that distillation captures.

From the first sip, you're introduced to the unapologetic personality of Ole Smoky White Lightnin Moonshine. The taste profile is both powerful and smooth, as the corn's natural sweetness meets the robust intensity of the distillation process. It's a true sensory journey that harkens back to the moonshining heritage of the Appalachian mountains.

As the moonshine graces your palate, layers of flavor unfold. A hint of earthiness and a gentle warmth remind you that this spirit is more than just a drink – it's a link to generations of craftsmanship and the spirit of adventure.

The finish is bold and resounding, leaving a satisfying reminder of the moonshine's authentic character. Ole Smoky White Lightnin Moonshine isn't just a spirit – it's a nod to history, a celebration of the untamed, and a testament to the passion that goes into creating exceptional moonshine.

Savor it neat, embrace its boldness in cocktails, or use it as a canvas for culinary creations that honor the heritage of Appalachia. Ole Smoky White Lightnin Moonshine invites you to experience the heart of the mountains in every sip, reminding you that true authenticity is an experience to be cherished.