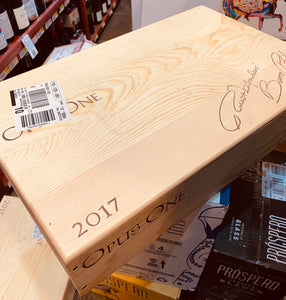 *CASE OF 6 BOTTLES 
*Pre-order with ETA of mid-October
**Pre-order can NOT be cancelled

Introducing the 2017 Opus One Case of 6: A Symphony of Elegance and Flavor

Discover the epitome of luxury and craftsmanship in every bottle with the 2017 Opus One Case of 6, a collection that embodies the finest traditions of winemaking excellence. Crafted with meticulous care and unparalleled expertise, this exceptional offering brings together the best of Napa Valley and Bordeaux, resulting in a wine that is both harmonious and powerful.

Each case contains six meticulously curated bottles of the 2017 Opus One, a vintage celebrated for its exceptional character and complex flavors. This collection is a true testament to the artistry of winemaking, blending Cabernet Sauvignon, Merlot, Cabernet Franc, Petit Verdot, and Malbec in perfect proportions to create a symphony of aromas and tastes.

Upon opening a bottle of the 2017 Opus One, you are greeted with an intoxicating bouquet of blackcurrants, cassis, and ripe dark berries, interwoven with hints of tobacco, vanilla, and subtle earthiness. The wine's opulent texture coats the palate, revealing layers of flavors that dance gracefully between lush fruitiness and refined notes of oak and spice. Silky tannins provide structure and balance to this extraordinary blend, leading to a lingering, harmonious finish that leaves an indelible mark on your senses.

Encased in an elegant wooden case, each bottle of the 2017 Opus One is a work of art that reflects the dedication and passion poured into its creation. The sleek design and timeless packaging make this case of 6 an ideal gift for connoisseurs, collectors, and those who appreciate the finer things in life.

Whether enjoyed on its own or paired with a gourmet meal, the 2017 Opus One Case of 6 promises an unparalleled sensory experience that celebrates the art of winemaking. Elevate your wine collection and indulge in the sophistication and allure of this exceptional vintage. Experience the legacy, share the joy, and savor the magnificence of Opus One.