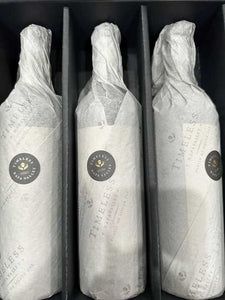 Elevate your wine collection to an entirely new level with the Ovid Timeless Napa Valley, a remarkable gem available exclusively at Folsom Wine & Spirits. This wine is an ode to the art of winemaking and the pursuit of perfection, embodying the timeless qualities that define Ovid Napa Valley's legacy.

Presented in an elegantly designed bottle, the Ovid Timeless Napa Valley wine exudes luxury and sophistication. As you unseal the bottle, a captivating aroma fills the room, enveloping your senses with a bouquet of red and black fruits, a hint of violets, and the subtle complexity of earthy notes. This aromatic embrace is but a prelude to the depth and complexity that awaits.

The first sip is a revelation, as the velvety, full-bodied liquid graces your palate with unparalleled grace. You'll encounter a symphony of flavors, from the opulent blackberries and plums to the fine nuances of cedar, dark chocolate, and hints of leather. This wine is more than a beverage; it's a masterpiece, a testament to the precision and craftsmanship that Ovid Napa Valley has perfected.

The finish is long and satisfying, leaving you with a warm, lingering embrace that beautifully showcases the depth and character of this Timeless Napa Valley wine. This wine is a must-have for the seasoned oenophile and those looking to explore the world of exceptional wine. It offers a unique opportunity to own a piece of Ovid Napa Valley's legacy.

Elevate your wine collection with this exceptional blend and raise your glass to the craftsmanship, precision, and legacy that Ovid Napa Valley represents. Secure your bottle today and toast to the depth of character and the promise of unforgettable moments. Cheers to a world of unparalleled flavor and timeless elegance!