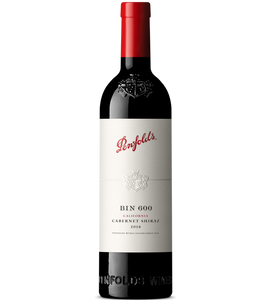 Penfolds Bin 600 Cabernet Shiraz is a bold and powerful red blend that showcases the unique qualities of Australia's top wine regions. This wine is named after the original Bin 620, which was created in 1966 by Penfolds' legendary winemaker Max Schubert. The Bin 600 is a blend of 73% Cabernet Sauvignon and 27% Shiraz, sourced from vineyards in the Barossa Valley, Coonawarra, and McLaren Vale.
This wine has a deep, ruby color and a complex aroma that combines notes of dark berries, blackcurrants, and vanilla, with hints of chocolate, cinnamon, and toasted oak. On the palate, it is full-bodied and rich, with flavors of black cherry, plum, and blackberry, supported by firm tannins and a well-balanced acidity. The wine has a long, lingering finish with notes of spice and oak.
Penfolds Bin 600 Cabernet Shiraz pairs well with rich and savory dishes such as grilled steak, roasted lamb, and hearty stews. It is also an excellent wine to enjoy on its own, with friends and family, or as an after-dinner treat. This wine can be enjoyed now or aged for several years to allow the flavors to deepen and develop even further.