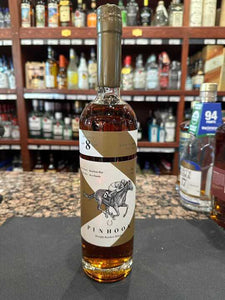 Elevate your bourbon collection to new heights with the Pinhook Vertical Series 8 Straight Bourbon Whiskey, a limited edition release available exclusively at Folsom Wine & Spirits. This extraordinary bourbon represents the culmination of Pinhook's innovative approach to crafting fine spirits, and it promises an experience like no other.

The Pinhook Vertical Series 8 bourbon arrives in an impeccably designed bottle, embodying the essence of the distillery's commitment to both tradition and innovation. As you unseal the bottle, an alluring aroma fills the air, captivating your senses with notes of caramel, vanilla, and a subtle hint of spice. This bourbon's bouquet is a precursor to the complexity and depth that lies within.

The first sip is an awakening of the senses, as the velvety, full-bodied liquid envelops your palate. Flavors of rich toffee, dark chocolate, and a gentle hint of oak dance harmoniously, creating a symphony of taste that evolves with every sip. The finish is long and satisfying, leaving you with a warm, lingering embrace that showcases the depth and character of this exquisite bourbon.

The Pinhook Vertical Series 8 Straight Bourbon Whiskey is a true masterpiece that beckons both the seasoned bourbon connoisseur and those new to the world of fine whiskey. It offers a unique opportunity to own a piece of Pinhook's legacy, a testament to their dedication to the craft and the art of blending.

Elevate your spirits collection with this exceptional whiskey, and toast to the craftsmanship, precision, and vision that define the Pinhook distillery. Secure your bottle today and raise your glass to the depth of character and the innovation that the Pinhook Vertical Series 8 Straight Bourbon Whiskey represents. Cheers to a world of unparalleled flavor and craftsmanship!