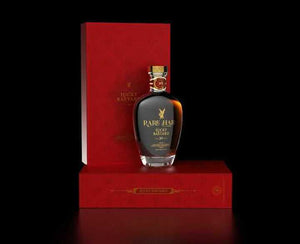 Introducing Rare Hare Lucky Bastard 30 Year Old Canadian Whiskey - A Masterpiece of Time and Craftsmanship

Experience the pinnacle of Canadian whiskey with Rare Hare Lucky Bastard 30 Year Old, a true testament to the art of distillation and aging. This remarkable spirit is a rare gem that exemplifies the dedication and skill of our master distillers, who have carefully nurtured it for three decades to create an unparalleled drinking experience.

The nose opens with an exquisite bouquet of rich caramel, vanilla, and toasted oak, inviting you to explore the depths of this exceptional whiskey. Hints of dried fruits and honey emerge, evoking a sense of indulgence.

A velvety and complex palate awaits, where layers of flavors unfold harmoniously. The taste is an orchestration of butterscotch, toffee, and dark chocolate, all elegantly intertwined with a gentle spiciness that lingers on the tongue.

The finish is where Rare Hare Lucky Bastard truly shines. Long and luxurious, it leaves a lasting impression of oak, leather, and a gentle warmth that caresses your senses. Each sip tells the story of its thirty-year journey, concluding with a delightful and satisfying flourish.

This exceptional whiskey is crafted using the finest Canadian grains and pure, pristine water from the Rocky Mountains. The secret behind its complexity lies in the meticulous aging process, where it has matured for an astonishing 30 years in charred oak barrels. This extended aging period allows the whiskey to develop an unparalleled depth of character and flavor, making it truly one of a kind.

Rare Hare Lucky Bastard 30 Year Old is presented in an exquisite, handcrafted bottle that reflects the rarity and sophistication of the liquid it holds. The label bears the mark of excellence, proudly displaying the years of dedication that have gone into its creation.

This whiskey is best enjoyed neat or with a single, well-chosen ice cube to unlock its full spectrum of flavors. Pour a glass, savor the moment, and raise it in celebration of life's extraordinary moments.

Limited Availability: Due to the rarity of this whiskey, only a limited number of bottles are available worldwide. If you're fortunate enough to secure one, consider yourself among the privileged few to experience the extraordinary.

Rare Hare Lucky Bastard 30 Year Old Canadian Whiskey is more than a beverage; it's a tribute to the art of whiskey-making and the legacy of those who have mastered it. An embodiment of patience, expertise, and dedication, it stands as a testament to the timeless allure of aged spirits. Savor the exceptional, savor the extraordinary – Rare Hare Lucky Bastard 30 Year Old.