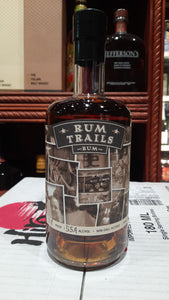 Rum Trails Ex Tequila Barrel Aged Rum is a premium rum that has been aged for a minimum of 3 years in ex-tequila barrels, resulting in a unique and complex flavor profile. This 700ml bottle is a limited edition release, with only a small number of bottles available.
This rum has a warm and inviting aroma, with notes of caramel, vanilla, and oak. On the palate, you'll notice a burst of flavors including tropical fruit, chocolate, and a hint of spice. The finish is long and satisfying, with a pleasant sweetness that lingers.
What sets this rum apart is its unique aging process in ex-tequila barrels, which gives it a distinctive flavor profile that is not found in other rums. The tequila barrel imparts a subtle hint of agave and a touch of smokiness to the rum, making it a truly exceptional spirit. Additionally, it has been bottled at a robust 55.9% ABV, giving it a full-bodied and flavorful taste.
Overall, Rum Trails Ex Tequila Barrel Aged Rum is a premium spirit that is perfect for sipping and savoring on its own, or mixed in your favorite cocktail. Its unique flavor profile and limited availability make it a must-try for any rum connoisseur.