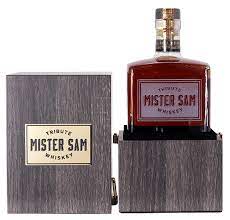 Introducing the Sazerac Mister Sam Tribute Whisky Batch No. 2, a true gem in the world of spirits. Crafted with precision and dedication, this exceptional whisky pays homage to the legendary Mr. Sam Bronfman, a pioneer in the industry. As you explore its depths, you'll uncover a story that unfolds with every sip.

Batch No. 2 is a testament to the artistry of whisky-making. Each bottle is a work of art, carefully blended and aged to perfection. Its rich amber hue hints at the complexity within, while the aroma tantalizes your senses with notes of caramel, oak, and a subtle hint of spice. From the first pour, you'll be captivated by the anticipation of what's to come.

On the palate, Sazerac Mister Sam Tribute Whisky is a harmonious symphony of flavors. Velvety smooth, it caresses your taste buds with the sweetness of toffee and dark chocolate, followed by a gentle wave of cinnamon and clove. The finish is long and satisfying, leaving you with a warm, lingering embrace of toasted oak.

This whisky is not just a drink; it's an experience. Whether you're a seasoned connoisseur or a curious newcomer to the world of whisky, Batch No. 2 offers something truly exceptional. Share it with friends and family on special occasions, or savor it quietly when you want to indulge in the finer things in life.

At Folsom Wine & Spirits, we take pride in offering you a handpicked selection of the finest spirits, and Sazerac Mister Sam Tribute Whisky Batch No. 2 is no exception. Elevate your collection and your tasting experience with this remarkable whisky. Order your bottle today and embark on a journey of flavor and tradition that Mr. Sam Bronfman himself would be proud of.