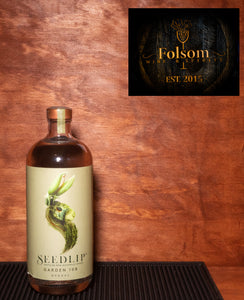 Introducing Seedlip Garden 108, a remarkable non-alcoholic spirit that invites you to savor the vibrant essence of a flourishing garden in every sip. Crafted with precision and passion, Garden 108 encapsulates the true spirit of nature, providing a sophisticated and refreshing alternative to traditional alcoholic beverages.

Inspired by the bountiful beauty of the natural world, Seedlip Garden 108 captures the essence of an English countryside garden in full bloom. With a meticulous blend of handpicked botanicals, each chosen for its aromatic and flavorful profile, this non-alcoholic spirit offers an unparalleled taste experience.

The heart of Garden 108 lies in its thoughtful combination of rosemary, thyme, and spearmint, resulting in a refreshing herbal medley that transports your senses to a serene garden haven. Hints of fresh peas and hay create a harmonious balance, evoking the feeling of a leisurely stroll through fragrant foliage.

Whether enjoyed on its own over ice or as the foundation for a multitude of mocktail creations, Seedlip Garden 108 caters to those seeking a sophisticated and alcohol-free option. Its versatility makes it the ideal companion for any occasion, whether you're celebrating with friends, winding down after a long day, or simply relishing a moment of tranquility.

With Seedlip Garden 108, you're invited to embrace the flavors of nature's bounty without the need for alcohol. Delight in the beauty of a blooming garden with every sip, and elevate your non-alcoholic beverage experience to new heights of taste and sophistication.