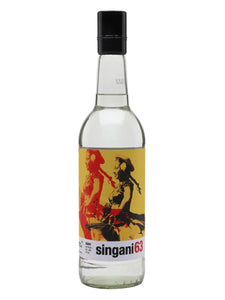 Singani 63 Brandy is a premium, one-of-a-kind spirit that is distilled from the aromatic white Muscat of Alexandria grape grown exclusively in the high-altitude region of Bolivia. The grape varietal, which is over 400 years old, is carefully selected and harvested by hand to produce a uniquely complex and flavorful brandy.
With its clear, bright appearance and delicate aroma, Singani 63 Brandy is a smooth and refined spirit that delivers a luxurious taste experience. On the palate, it is light-bodied and elegant, with notes of floral and citrus flavors, and a hint of earthiness. The finish is clean and crisp, leaving a refreshing aftertaste that lingers on the palate.
Singani 63 Brandy is a versatile spirit that can be enjoyed neat, on the rocks or in a variety of cocktails. Its unique flavor profile and smooth character make it an excellent ingredient in classic cocktails such as the Martini, Manhattan or Negroni.
Experience the rich and complex flavors of Singani 63 Brandy and discover the true essence of Bolivian craftsmanship.