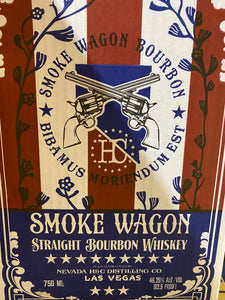 Get ready to celebrate Independence Day with the perfect bourbon - Smoke Wagon Fourth of July Straight Bourbon Whiskey! This limited edition 92.5 proof American whiskey is expertly crafted by the Nevada H&C Distilling Co. and is a fine expression of the Vegas distiller's mastery in producing classic bourbons.
As a tribute to the signing of the Declaration of Independence, this bottling is the perfect way to honor the Fourth of July with your family and friends. This limited edition Smoke Wagon bourbon is a true collector's item, and its distinctive flavor profile is sure to impress even the most discerning bourbon enthusiasts.
Savor the rich and complex flavors of this bourbon, which is crafted from the finest ingredients and expertly aged to perfection. Whether enjoyed neat or in a classic cocktail, Smoke Wagon Fourth of July Straight Bourbon Whiskey is the perfect way to celebrate our nation's independence in style. Don't miss your chance to try this exceptional bourbon - it won't be available for long!