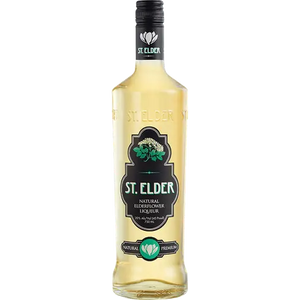 St Elder Elderflower Liqueur is a premium American liqueur that is crafted using only the finest elderflowers, which are harvested during a brief period in late spring when they are at their peak of flavor and aroma. These delicate flowers are then macerated in a small batch process to create a unique and flavorful liqueur that captures the essence of the elderflower.
On the nose, St Elder Elderflower Liqueur offers a fresh and floral aroma that is characterized by the sweet and delicate scent of elderflowers, with hints of citrus and honey in the background. On the palate, it delivers a smooth and silky texture that is bursting with the juicy and aromatic taste of elderflowers, creating a deliciously refreshing and sophisticated taste experience.
St Elder Elderflower Liqueur is a versatile spirit that can be enjoyed on its own, over ice, or as a key ingredient in a variety of cocktails, such as the classic Elderflower Martini or the St Elder Spritz. Its delicate and floral flavor profile also makes it a popular choice for adding a touch of elegance and sophistication to champagne or white wine.
With its elegant packaging and exquisite taste, St Elder Elderflower Liqueur is a must-have for any home bar or special occasion. Its unique and complex flavor profile, combined with its reputation for quality and craftsmanship, make it a favorite among both novice and experienced spirits enthusiasts.