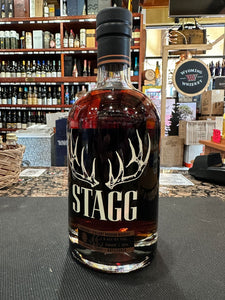 *132.2 proof
Introducing the Stagg Jr. Barrel Proof Kentucky Straight Bourbon Whiskey Batch 22A, a remarkable testament to the time-honored tradition of bourbon-making that Kentucky is renowned for. In this bottle, you'll discover a bourbon of exceptional quality, showcasing the very essence of the Bluegrass State.

With its distinctive deep amber hue, this bourbon immediately captures the eye. It's a testament to the meticulous aging process and expert blending that goes into every bottle of Stagg Jr. Each sip promises a journey into the heart of Kentucky's bourbon heritage.

One of the defining characteristics of Stagg Jr. is its unapologetic, barrel-proof nature, and Batch 22A lives up to that reputation. This bourbon is presented straight from the cask at its natural strength, ensuring an authentic, robust experience. It's a bold expression that honors the roots of Kentucky's bourbon craftsmanship.

As you raise the glass, the aroma wafts up to meet you – a captivating blend of caramel, vanilla, and oak. Beneath that lies a subtle hint of spice, a nod to the complexity that awaits. Your first sip reveals a harmonious orchestra of flavors. Rich toffee and dark chocolate meld seamlessly with notes of dried fruits and leather, creating a profile that's nothing short of captivating.

The finish is where Batch 22A truly shines. It's long and warming, with a delightful embrace of oak and a gentle, lingering spice that leaves an indelible impression. This is a bourbon that commands your attention and deserves a place of honor in your collection.

Whether you're a seasoned bourbon connoisseur or someone eager to explore the world of fine Kentucky whiskey, the Stagg Jr. Barrel Proof Kentucky Straight Bourbon Whiskey Batch 22A is an absolute must-try. It embodies tradition while pushing the boundaries of what bourbon can achieve.

At Folsom Wine & Spirits, we're committed to offering you a carefully curated selection of the finest spirits, and Batch 22A is no exception. Elevate your collection and your bourbon experience with this exceptional release. Secure your bottle today and experience the true essence of Kentucky with every sip.