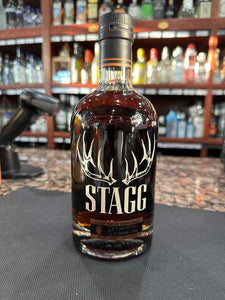 you will receive any random batch on sale!
Introducing Stagg Jr Barrel Proof Unfiltered Kentucky Straight Bourbon Whiskey – a robust and unapologetic spirit that pays homage to the heritage and craftsmanship of America's finest bourbons. Crafted with the utmost dedication, this whiskey offers an unforgettable experience for those who appreciate the bold and untamed.

Stagg Jr Barrel Proof opens with an enticing nose, showcasing deep and rich aromas of caramel, toasted oak, and vanilla. As you delve deeper, hints of dark chocolate, cinnamon, and dried fruits emerge, inviting you to savor the complexity that lies within each sip.

On the palate, this Kentucky straight bourbon whiskey explodes with intense flavors. The high proof is evident, providing a robust and warming sensation. Notes of toffee, butterscotch, and leather are met with a delightful spiciness, creating a harmonious blend of sweet and spicy characteristics that dance across your taste buds.

The finish is long and satisfying, leaving a lasting impression of oak, charred wood, and a lingering warmth that beckons you to savor the moment.

Stagg Jr is born from carefully selected barrels that have aged patiently in the heart of Kentucky. What sets it apart is its "barrel proof" nature, which means it is bottled directly from the barrel without any dilution. This preserves the whiskey's raw and unfiltered essence, allowing you to experience it in its purest form.

Stagg Jr Barrel Proof is best enjoyed neat or with a few drops of water to unlock its full flavor potential. It also makes an excellent foundation for crafting classic bourbon cocktails for those seeking a more adventurous spirit.

As part of the Buffalo Trace Distillery's Antique Collection, Stagg Jr Barrel Proof is not only a remarkable whiskey but also a collector's dream. Each batch is unique, and its limited availability makes it a coveted gem for bourbon enthusiasts and collectors alike.

In summary, Stagg Jr Barrel Proof Unfiltered Kentucky Straight Bourbon Whiskey is a powerhouse of flavor and character, delivering an unfiltered and unforgettable bourbon experience. Whether you're sipping it slowly or adding it to your collection, this whiskey is a testament to the enduring legacy of American craftsmanship and tradition. Enjoy responsibly and savor every moment of its bold and untamed spirit.