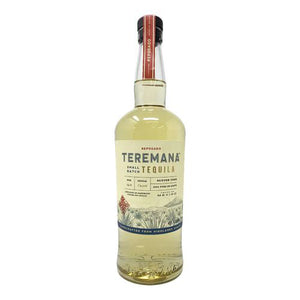 Discover the artisanal allure of Teremana Small Batch Reposado Tequila, a testament to craftsmanship and the spirit of authenticity. This tequila is a true embodiment of the land it hails from, offering a refined experience that celebrates tradition while embracing innovation.

In the glass, the tequila gleams with a rich, golden hue that hints at the depth of flavors within. The aroma is a delicate dance of agave and oak, offering a preview of the balanced symphony that awaits the senses.

With the first sip, you're greeted by the unmistakable character of agave, complemented by the nuanced influence of oak aging. The taste profile is a journey that's both bold and refined, as the sweet earthiness of agave meets the gentle embrace of oak's warmth.

As the tequila unfolds on your palate, layers of flavor emerge. The agave's natural sweetness intertwines with notes of caramel and vanilla from the oak, creating a sensory experience that's both complex and approachable. It's a celebration of terroir and tradition, curated to perfection.

The finish is a harmonious conclusion, leaving behind a subtle aftertaste that captures the essence of agave and the soft echo of oak. Teremana Small Batch Reposado Tequila isn't just a drink – it's an ode to heritage, a reminder that great things take time, and a testament to the dedication that goes into crafting exceptional spirits.

Whether enjoyed neat, in classic cocktails, or as the foundation for innovative mixology creations, Teremana Small Batch Reposado Tequila elevates every moment. It's an invitation to savor the spirit of the land and the heart of craftsmanship in each and every sip.