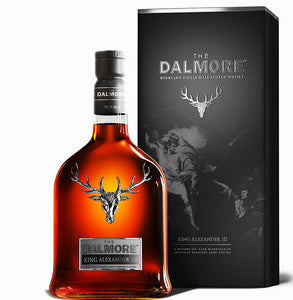 The story of The Dalmore begins in 1839 when Alexander Matheson set out to find the perfect location for his new distillery. His only criteria was to find the best natural resources to make the finest whisky, and he eventually settled on an isolated area on the banks of the Cromarty Firth. Thus, The Dalmore was born.
One of the unique features of Dalmore's whisky-making process is their use of irregular shaped stills. This unconventional approach is believed to produce a stronger and more complex character in their whiskies, which are characterized by a deep copper color and flavors of crushed almonds, cinnamon, ginger, and citrus.
The Dalmore 1263 King Alexander III Single Malt was created to honor the bravery of the Mackenzie Clan, who saved the Monarch's life and were gifted with a 12-pointed Royal Stag emblem. This exceptional single malt whisky boasts rich fruity flavors and a woody finish that would have made the King proud.
Whether enjoyed neat or with a splash of water, The Dalmore 1263 King Alexander III Single Malt is a tribute to the rich history and tradition of Scottish whisky-making. With its exquisite flavor profile and luxurious packaging, it is a must-have for any whisky enthusiast or collector.